My goal is: [Be able to read data from sensor using Mongoose-OS]
My actions are: [describe your actions - code, commands, etc]
. I download AM2315 library from Adafruit Git, then i followed the user guide to convert those source to Mongoose JS: https://github.com/adafruit/Adafruit_AM2315
. After build libs successfully, i tried to write simple test like

. My mos.yml: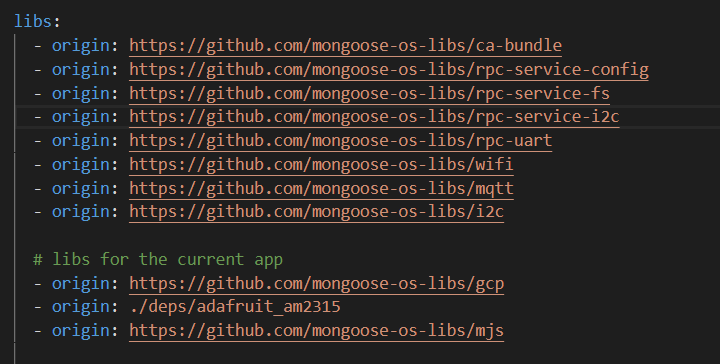 . i tried to run "mos call I2C.Scan" and the result is:

The result I see is: "Sensor not found"
My expectation & question is: [describe your expectation and your question]
I do not know what i was wrong. I am new to mongoose-os, so i do not know whether something while i convert from Adafruit Libs source to mongoose-os libs. Would anyone help me for this issue.
Thanks you in advance for any guidance !!!
P/s: Sorry for my best english !